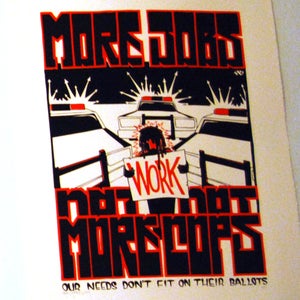 $

30.00
- 18 by 24 inches
- Signed
- Hand Illustrated / No vectoring
- Two Colors
- Hand Pulled by Artist
- On Thick Archival Bristol Paper


Barron did this piece in early 2008, after the murder of Gary King Jr by the Oakland Police. It was in response to the cities call for more police in the neighborhood. Violence is a response to poverty and lack of decent paying jobs, not the result of too little police repression.


This fine art print will be shipped safely in a thick tube.